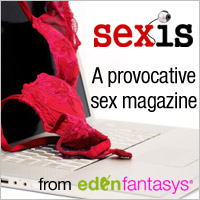 As a freelance writer I have had the pleasure of writing for many different outlets. Quite a few of you are familiar with the gigs I have had writing copy for adult related sites and that my digital press releases erotica. I was intrigued when I found that
Edenfantasys
has an online magazine - SexIs.
I absolutely love The Blogess. She's not some super model- though beautiful in a real way we can all relate to. She's human. She's not air-brushed, The Bloggess is in your face REAL. I want to be as comfortable in my pictures as she seems to be in hers. Comfortable in my skin and feeling sexy about who I am, not what traditional media wants women to think we need to be.
Does that make sense? I hope so.
I just found SexIs and I am hooked already. Almost all of you that visit have written something with sex in it- for money- at least once. If you have, then you'll understand why I love this column:
Secrets of a Sex Writer
. You might write sex, but does that mean you are perfect in relationships? Maybe, maybe not.
Were you aware that one of our own from AW writes at the Eden Cafe? That's right,
Emily Veinglory
, one of the most respected and knowledgeable forum members on Absolute Write can be found over there. I was very pleased when she listed BLB on Eden Cafe- it made my day. I check out her posts often. If you are an erotica writer or even thinking about trying your hand, you will never go wrong by reading her advice.
Oh, if you're worried that SexIs will be filled with things that are NSFW (not safe for work), you're right. But not as bad as you might expect when you read 'adult novelty store'. The columns are tasteful and I didn't see hundreds of B.O.B.'s there. (The store is another story, but come on, what else are you looking for
there
? Smoothies? Snickers?)
I'm going to check out SexIs more and let you know if they take freelance material. Check back soon for links to submission guidelines if they do!